Features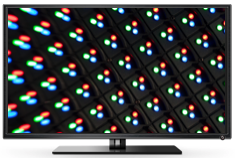 100% reactive
Tunable refractive index
Light-emitting diode (LED) or organic light-emitting diode (OLED)
Light extraction
Low viscosity
Overview
Need a solution to enhance the efficiency and longevity of light-emitting or organic light-emitting display (OLED) applications?
Our proprietary blend can thermally cure to a high strength thermoset for improved light extraction.
Designed to be 100 percent reactive, PDM-5004 is a solventless solution derived from monomers. It can be tailored to a variety of viscosities for dispense techniques, such as inkjetting and traditional jet dispensing.
The formulation contains norbornene monomers that are coated directly on the substrate. During thermal cure, the monomers are polymerized in place, solidifying into a permanent material, with features of a thermoset, making PDM-5004 an ideal solution for electronic applications.
When blended with additives, it can be designed to have excellent adhesion and mechanical durability. Or, it can be designed to have a high refractive index for improved light extractability or a low refractive index for anti-reflective coatings.
This solution does not require ultraviolet light.

Promerus is a technology-driven organization providing advanced material solutions for the next generation of applications. These materials are based on high-purity cyclic olefin polymers that provide outstanding electrical, mechanical, optical and thermal properties. For more information, fill out the form below to explore our full list of materials and applications.