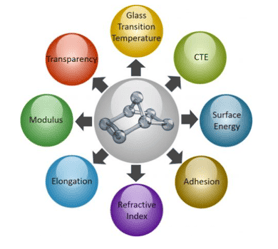 Unlike polyimides, polynorbornenes don't involve a high temperature cure to increase glass transition temperature (Tg).
This low cure temperature makes it an attractive candidate for next-generation technologies, such as wearables.
Interested in learning more? Read on to uncover the top two things you should know about polynorbornenes.
1. Scientists can polymerize functionalized norbornenes to make polynorbornenes.
Catalyst technology enables scientists to polymerize functionalized norbornene monomers to make polynorbornenes.
To facilitate the demand for polymers and their applications, a broad array of functionalized norbornene monomers are available. This makes polynorbornenes attractive solutions to businesses looking to build the next innovative product. Common substituents include:
Acetate
Alcohol
Alkyl
Amine
Anhydride
Epoxide
Ester
Ether
Ketone
Phenyl
Silyl Ether
Vinyl
The ability to functionalize norbornenes into polynorbornenes results in improved chemical and thermal properties.
2. Scientists can control polynorbornene compositions.
Due to advances in research and development, scientists are able to control the compositions of polynorbornenes to form linear polymers, as well as crosslinked polymers.
The resulting polymer can exhibit a combination of valuable properties, such as high temperature and solvent resistance.
Scientists also have the ability to incorporate functional groups into the polymer to tune specific polynorbornene polymer properties. These include:
Adhesion
Coefficient of Thermal Expansion
Elongation
Modulus
Refractive Index
Surface Energy
Transparency
With this unique ability to tailor polynorbornene polymer compositions, scientists can solve a number of industrial problems.
Promerus manufacturers a variety of electronic materials and is actively developing new ones. These materials are based on high-purity hydrocarbon-based polymers that provide outstanding electrical, mechanical, thermal and optical properties in many packaging, sacrificial and photoresist applications. To see what Promerus can do for you, we encourage you to download our Materials Guide.