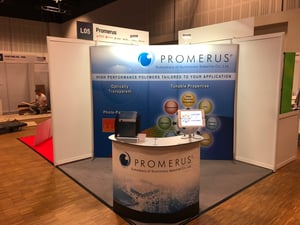 In April, our team traveled to Berlin, Germany for IDTechEx Show!. While there, we were able to explore the latest technologies in flexible, hybrid and printed electronics.
The show brought together a combined 2,500 attendees from 55 countries. Not to mention, it had wide industry representation with over 200 exhibitors.
Unable to attend? Don't fret. The Promerus team highlights their top takeaways from the conference below.
New Form Factors in Flexible and Printed Electronics
The future is flexible—that is according to several speakers who spoke about the latest form factors in stretchable and structural electronics at the show. To further support this, IDTechEx released a research report available to attendees, suggesting that the flexible display market will reach $20 billion by 2029.
The lure of these electronics has captured the attention of developers, manufacturers, researchers and scientists alike. Global manufacturers see this type of technology as the next step for differentiation in their products. In fact, many companies have already filed patents for their devices, which they hope will capture the attention of tech-savvy consumers.
In the coming years, flexible displays will enable new form factors, such as phones that expand into tablets. Thanks to advances in organic thin-film transistors (OTFTs), manufacturers can fabricate onto flexible surfaces at lower processing temperatures. This gives manufacturers the ability to tune material properties for integrated applications, batteries, circuits, displays and more.
New Industries Experiment with 3D Printing
As the world of 3D printing evolves, so too does the number of materials. Take photosensitive resins and thermoplastic powders, for example. These materials are forecasted to account for $23.1 billion in revenue by 2029.
With this in mind, it's critical for businesses to understand the importance of 3D printing, and how it provides unprecedented methods for producing innovative devices.
Functional elements, such as capacitors, resistors and sensors, are now being integrated into 3D-printed products for various markets including:
Aerospace
Automotive
Construction
Consumer goods
Education
Energy
Medical
In fact, IDTechEx predicts that the combined market share of 3D printed products for the aerospace and medical industries will be 51% by 2029. This comes as no surprise, considering today's engineers are able to experiment with new materials to create customized designs.
With over 250 presentations from around the globe, you won't want to miss the upcoming IDTechEx Show! in Santa Clara, California November 20 – 21, 2019. The Promerus team will be exhibiting, so feel free to stop by our booth while there!
Promerus is a technology-driven organization committed to building better solutions for electronics materials. To help you unlock your competitive advantage in a transformative industry, we encourage you to download, The Complete Guide to Semiconductor Materials to see what Promerus can do for you.