Once again The Display Week Technical Symposium did not disappoint.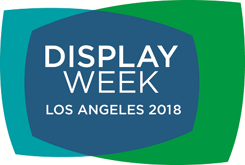 The Promerus team traveled to Los Angeles for three days of nonstop networking with global experts in the electronic information displays and applications industry.
With a special emphasis on the rapid growth of electronic display, design and development, below we've outlined our team's top three takeaways from #DisplayWeek18.
1. Flexible displays are the future.
Differing in shape, size and structure, flexible displays are being brought to market by established manufacturers and start-ups. These tech movers and shakers are changing display from flat to flexible, but how?
Companies like Display Week exhibitor, FlexEnable, manufacture OLCD and OLED displays by alternating glass with plastic and using organic thin-film transistors (OTFTs) instead of amorphous silicon. FlexEnable collaborates with materials maker Merck KGAA to integrate flexible transistor arrays with sensor and display technologies. Together they make new features possible in display applications.
In fact, flexible phones will likely be a reality in the next several years. Beyond consumer electronics, flexible displays have the power to disrupt multiple industries, including automotive, healthcare and more.
2. MicroLEDs are the "ultimate display technology."
MicroLEDs were the focus of multiple papers during the symposium, including a market review by Eric Virey, senior industry analyst at Yole Development.
According to Virey, microLEDs are the "ultimate display technology," but will likely enter the market in a smaller form due to their initial complexity in manufacturing.
Despite challenges, MicroLED could be the next big display technology. John Kymissis, associate professor at Columbia University said in his Sunday Short Course, "MicroLED technologies unlock the potential for LEDs to serve as active-emissive display elements at the pixel level, allowing for the development of displays with extraordinary performance, including otherwise unavailable levels of contrast, luminance and color gamut."
3.

Wearable displays, sensors and devices are reshaping the customer experience.
With the advent of Apple Watch and Fitbit, there's no denying that wearables have emerged as one of the most active fields in the technological world.
E Ink showcased its electronic paper displays (EDP) at the symposium. From smart bands to smart watches, E Ink's plastic-based thin film transistors (TFTs) allow consumer end products to be substantially lighter and thinner than its glass counterparts.
As researchers, designers and engineers continue to innovate, advanced displays for wearable applications will decrease in size and increase in functionality. Some features to look forward to include:
Readability and durability in extreme environments
Lower power
High contrast
Flexibility
Amy Kilvington, founder of Naturally Content, is quoted in a Future of Everything article saying, "Wearable tech of the future will monitor and measure not only our physical activity levels but valuable data on a more sensory level…These chemical reactions and emotional responses will allow marketers to better understand their customers and deliver a more personalized experience."
Interested in learning more about Promerus? Explore our materials to see what Promerus can do for you.