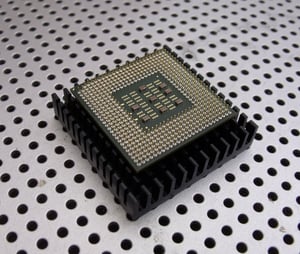 Electronic packaging is the art and science of placing IC chips in protective enclosures to form electronic systems.
The effectiveness of the system is strongly dependent on its design—but that's not all.
The rapid advancement of chips toward high density and high speed has placed an increasing demand on materials and their corresponding properties.
Below, we explore two key electronic packaging elements.
1. Design
Advanced packaging facilitates the integration of electronics into every facet of our lives. Yet, the effectiveness of these electronics is strongly determined by the design.
For a chip to function, it needs to be connected to the system. In order to achieve the overall objectives for the electronic system, design choices must be made at every level of interconnection.
The original function of packaging as a means of protection and preservation against external factors is only one of several current market requirements. Today, a key demand is for systems with ever-higher performance that provide their functions in less physical space.
2. Materials
Electronic packaging materials are a fundamental element that influences the ultimate performance of advanced electronic systems.
A competitive advantage cannot be obtained without cutting-edge materials. That's why the coordination of these components is essential for protection against external factors.
According to ScienceDirect, "One of the major limitations to continued increases in performance in the electronic industries is thermal management. There's a need for the industry to develop thermally conductive materials that facilitate effective heat dissipation."
Additionally, electronic packaging materials must provide outstanding electrical, optical and mechanical performance measures. Fortunately, some industry players have made advances in this particular area.
Key properties for electronic packaging applications today include:
Adhesion
Coefficient of Thermal Expansion
Elongation
Modulus
Refractive Index
Surface Energy
Transparency
The proper choice of materials and properties can result in enhanced chip performance.
Promerus manufacturers a variety of electronic materials and is actively developing new ones. To see what Promerus can do for you, we encourage you to subscribe to our blog.