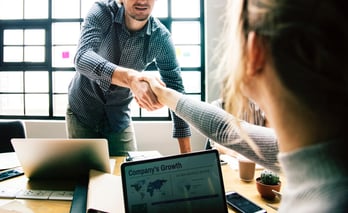 In 2018, global sales for the semiconductor industry reached $468.8 billion—the industry's highest-ever annual total.
Slowing growth and increasing costs for designing, packaging and testing device chips are plaguing semiconductor companies worldwide. As a result, companies are now relying heavily on mergers and acquisitions (M&A) to generate profits in a competitive landscape.
In fact, acquisition agreements reached a combined value of $23.2 billion in 2018.
Are you ready to test the waters with a merger? Or, an acquisition? Read on to learn how M&A have helped semiconductor companies pursue growth in rising markets and customer segments.
1. Pivot to New Markets
According to the Global Semiconductor Market Trends Research Report by IHS Markit, "The top 15 semiconductor companies continue to strategically shift their product portfolios to serve specific end market applications to drive revenue growth."
As traditional markets become saturated, semiconductor companies must support a wide array of technologies, where customization is critical to compete. This includes tailoring the physical properties of semiconductor materials in devices like sensors to appeal to consumer demand.
And as design costs increase dramatically, companies rely on M&A to cover broader product portfolios in many semiconductor applications, including flexible displays. In turn, they have the resources and capabilities to enter new markets.
2. Expand in Global Markets
As semiconductor companies achieve growth via completely new products and services, complexities arise as leaders navigate the constantly changing global landscape.
According to Power Electronics, "Many companies are searching for fresh revenue streams across a wide range of verticals comprising the Internet of Things. However, with the IoT install base expected to increase…security is currently perceived as both a major opportunity and a considerable challenge."
Take Alibaba Group Holding, for instance. In April 2018, the Chinese e-commerce firm acquired Chinese chipmaker Hangzhou C-SKY Microsystems Co., Ltd. to support its IoT business lines in autonomous driving.
Opportunities in the automotive sector prove to be promising for the semiconductor industry. In fact, much of the auto industry's development continues with the inclusion of semiconductor technology in vehicle designs for mapping applications and automatic-braking systems.
According to Deloitte Insights, "If China is even marginally successful in advancing its semiconductor agenda, it may be even better positioned to control access to its growing consumer market."
M&A can help leaders looking to secure their competitive advantage in global markets.
Where is the future of the semiconductor industry headed? Find the answer to this question and more in The Complete Guide to Semiconductor Materials. Download your free copy today to learn how customized semiconductor materials can give you a leg up on your competitors.