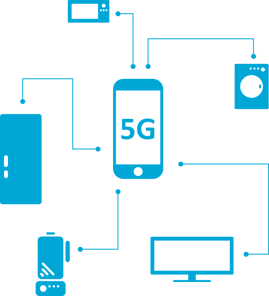 Because the semiconductor industry produces some of the world's most advanced products, it's often the first to feel the impact of a technology shift.
With the coming fifth generation (5G) of cellular technology, manufacturers must develop materials with advanced capabilities on several fronts.
Below, we explore how this new wave of technology impacts the semiconductor industry.
1. Higher Connectivity
Unlike 3G and 4G, 5G will expand the mobile ecosystem to interconnect multiple devices simultaneously through powerful data centers. Think computers, phones, televisions, watches and more.
Not only will 5G deliver faster speed, but it will also offer ultra-low latency. This is the ability to process high volumes of data with extraordinarily little delay. These connected networks are designed to respond to rapidly changing data anywhere, anytime.
Additionally, 5G features support the adoption of artificial intelligence (AI) and the Internet of Things (IoT) for collecting and sharing data. This technology presents a direct opportunity for device makers to develop new markets.
2. Lower Power
The expected semiconductor devices will use less energy with 5G because the access points will be closer on average. This means less power required during communications, which opens the door for more complex processing.
In a Semiconductor Engineering article, Jean-Marie Brunet, senior director of marketing for the Emulation Division of Mentor, a Siemens Business, suggests, "5G provides a 10X to 100X reduction in power per bit with a commensurate 10X bandwidth bump, which could yield a net gain in power longevity and a 10X improvement in power efficiency."
Actual benefits will vary by application, but higher bandwidths will likely enable infrastructure to keep up with the demand for smarter, faster and lighter devices.
While some semiconductor companies may find it difficult to take advantage of 5G opportunities because of the significant investments required in R&D, there's no telling what's next for 5G. Those who remain on the top of this cutting-edge technology will reap the rewards of a global marketplace.
Promerus manufacturers a wide variety of electronic materials including materials with low loss for the next generation of applications in semiconductor, optoelectronic and electronic packaging markets. For more information, we encourage you to download our Materials Guide to see what Promerus can do for you.