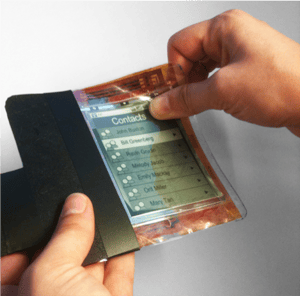 In recent years, several top-tier manufacturers have touted flexible displays for smartphones and watches. Yet, origins of the flexible display can be traced back to the '70s when Nicholas K. Sheridon produced the first-ever flexible e-paper display.
Since this major breakthrough, there's been a growing interest among engineers, designers and manufacturers to apply this technology to everyday life. This stems from an intensifying demand by consumers for devices that are smaller, lighter and thinner.
It's only a matter of time before the next generation of flexible displays emerges. Below, we take a look at what's to come in a future that's flexible.
1. Manufacturers will develop new materials to meet consumer demand.
Materials play a key role in the transition from flat to flexible displays for commercial applications.
Today's manufacturers are challenged with developing new materials that flex and fold farther than ever before. Fortunately, advances in organic thin-film transistors (OTFTs) make this possible.
According to TechTarget, "Organic substrates allow for displays to be fabricated on flexible surfaces, rather than on rigid materials, as is necessary in traditional TFT [thin-film transistor] displays."
Because of this, OTFTs can often be fabricated at a lower processing temperature, which gives manufacturers the ability to tune material properties for integrated circuits, displays and applications.
2. Manufacturers, suppliers and distributors will collaborate to succeed.
The research and development of flexible displays bring about many technical challenges.
To deploy flexible displays that drive mass consumer adoption, manufacturers, suppliers and distributors must collaborate along the value chain.
Tom Caulfield of GlobalFoundries backs this sentiment. He's quoted in a Solid State Technology article saying, "We need strategic partnerships, and not only among semiconductor manufacturers but also with equipment suppliers."
This may be the reason why many companies are now relying on mergers and acquisitions (M&A) to strengthen service offerings. According to Nasdaq, "Over the last 24 months, the industry has witnessed more than 10 major mergers and acquisitions, which have a combined worth of more than $100 billion…"
A willingness to collaborate is central to attaining a strong position in the flexible display industry.
3. Flexible display technologies will become integrated into everyday life.
While these technologies have been on the horizon for nearly a decade, it is likely consumers will have these foldable and bendable displays in their hands very soon.
According to TechRadar, Samsung could be the first company to commercially launch a foldable phone, the Galaxy X, which could be seen on shelves as early as January of 2019.
Beyond consumer electronics, flexible displays have the power to disrupt multiple industries, including automotive and aerospace. As a result, these devices will become integrated into everyday life, allowing consumers to stay connected anytime, anywhere.
The future of flexible looks promising. In the coming years, we'll see more of this technology come to market, as the demand for flexible displays rises.
Promerus develops a variety of electronic materials for the next generation of applications in markets such as optoelectronic and electronic packaging. For more information, take a look at our materials and applications to see what Promerus can do for you.