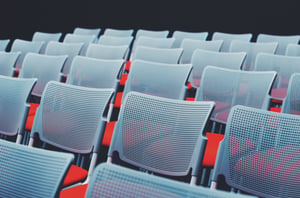 Our team is headed back to Santa Clara, California November 20 – 21 for this year's IDTechEx Show.
While there, we'll be showcasing Promerus' ability to tailor polymer properties for application-specific environments. When you stop by booth N15, you'll get an exclusive look at our comprehensive list of materials, including adhesive pastes, solventless solutions and more.
Outside of exhibiting, our team is planning to attend breakout sessions to gain market insights from users and suppliers. With over 250 presenters, this is an exciting opportunity for you to learn about the latest technologies in printed electronics, sensors and wearable technology.
If you're planning to attend this year's event, read on for our roundup of three must-see presentations below.
1. Unlocking Graphene Potential Through Integrated Products (Featuring Mark Thompson)
The commercialization of graphene has been stalled by the inability of end users to easily integrate raw powders and dispersions into batteries, coatings, polymer composites and more.
In the presentation titled, Unlocking Graphene Potential Through Integrated Products, Mark Thompson, managing director at Talga Resources, will provide insight on the benefits of "fit for purpose" graphene products for easier integration and faster adoption.
If you're interested in learning about the potential of graphene through integrated products, this is the session for you.
2. From Silicon to Plastic: Grolltex – 2D Foundry for Flexible Electronics (Featuring Alex Zaretski)
Unlike conventional approaches for manufacturing silicon transistors on glass for displays, today's technology integrates active and passive polymeric materials, including plastics.
In the presentation titled, From Silicon to Plastic: Grollex – 2D Foundry for Flexible Electronics, Alex Zaretski, CTO at Grolltex, will overview a set of technologies that allow synthesis, transfer, patterning and integration of 2D materials on flexible plastic substrates. He will also explain how the approach towards roll-to-roll fabrication of electronic materials can significantly increase device yield and production output.
If you're interested in learning how to build entire integrated circuits that are virtually unbreakable, don't miss this session.
3. Novel Materials for Microelectronic Packaging (Featuring Markus Schindler)
As the industry makes strides toward the development of microelectronics, several challenges arise in the packaging of these materials.
In the presentation titled, Novel Materials for Microelectronic Packaging, Markus Schindler, product manager at DELO, will explain how the company has developed materials for encapsulations with a drastic footprint reduction, while still keeping the chip protected on all sides. He will also touch on how DELO's materials combine light and heat cure to improve the stability of industrial adhesives.
Check out this session to learn about novel materials for microelectronic packaging.
Stop By Promerus' Booth at IDTechEx Show! – Booth N15
Are you attending IDTechEx Show! 2019 in Santa Clara, California? If so, we want to hear from you.
As you organize your agenda for the event, we invite you to stop by our booth (N15) to meet with a member of our team to discuss your polymer application requirements.
A Promerus expert will be available, one-on-one, to help you:
Identify your challenges in semiconductor, optoelectronic and electronic packaging markets.
Discover the tunable properties of your application, including adhesion, elongation and modulus—among others.
Uncover solutions to unlock your competitive advantage with tailored properties.
Together, we can better understand your needs and develop an action plan that meets and exceeds your expectations.
In the meantime, we encourage you to subscribe to the Promerus blog.