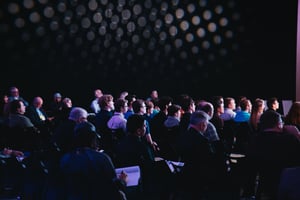 As the printed, hybrid and flexible electronics industry continues to grow, so too does the number of large-scale conferences for researchers, engineers, manufacturers and other industry professionals.
And while iconic names like Display Week and IDTechEx Show ring a bell, some up-and-coming conferences and conventions are taking a fresh approach to advanced material solutions.
Below, we've rounded up five must-attend conferences for electronic engineering professionals in 2019. Conferences are listed in order of event date.
Organized by the International Microelectronics Assembly and Packaging Society (IMAPS), the 15th Annual Device Packaging Conference (DPC 2019) is an exhibition for vendors and suppliers who support the many aspects of device packaging. The format is similar to their previous conferences, featuring workshops and tracks concentrating on chip and wafer level packaging, as well as engineered microsystems and devices. You won't want to miss the opportunity to showcase your products and services to key decision-making professionals in the industry.
Date: March 4 – 7, 2019
Location: We-Ko-Pa Resort and Conference Center; 10438 North Fort McDowell Road, Scottsdale, Arizona, USA.
The IDTechEX Show! presents the latest emerging technologies at one event, with eight co-located conferences and a single exhibition covering 3D printing, energy storage, graphene, Internet of Things (Iot), printed electronics, sensors and wearable technology.
With over 200 exhibitors, conference attendees will gain insights into the creation of new components and devices, including displays, batteries, capacitors and much more. Don't miss the opportunity to analyze potential markets and partners to grow your business.
Don't have the means to attend IDTechEx Show! in Berlin, Germany? IDTechEX Show! is coming to Santa Clara, California November 20 – 21, 2019.
Date: April 10 – 11, 2019
Location: Estrel Convention Center; Sonnenallee 225, 12057 Berlin, Germany.
>>> Related Resource: What You Missed at IDTechEx Show 2018
The Advanced Semiconductor Manufacturing Conference (ASMC) is known as the leading international technical conference for discussing solutions that improve the collective manufacturing expertise of the semiconductor industry. ASMC brings together device makers and material suppliers to learn the latest in the practical application of advanced manufacturing strategies and methodologies. Don't miss the opportunity to network with technical experts to solve for your unique challenges in semiconductor manufacturing.
Date: May 6 – 9, 2019
Location: Saratoga Springs City Center; 522 Broadway, Saratoga Springs, New York, USA.
Join the world's next generation electronic display creators, technologists, value-add suppliers and end-users for Display Week 2019. As the world's leading event for the advancement, growth and commercialization of electronic information displays, conference attendees can explore the latest in products, interfaces and systems. This show is a great opportunity to meet the entire buying team for your products or services.
Date: May 12 – 17, 2019
Location: San Jose McEnery Convention Center; 150 West San Carlos Street, San Jose, California, USA.
>>> Related Resource: What You Missed at Display Week 2018
The International Microelectronics Assembly and Packaging Society (iMAPS) is hosting the 52 Annual International Symposium on Microelectronics. The symposium will feature original papers that present progress on technologies throughout the entire microelectronics supply chain. The five technical tracks concentrate on everything from system design and integration to polymer materials and processes. You won't want to miss the opportunity to network with some of the most influential and important leaders in the microelectronics supply chain.
Date: October 1 – 3, 2019
Location: Hynes Convention Center; 100 Massachusetts Avenue, Boston, Massachusetts USA.
Do you have plans to attend any of the above conferences? Let us know in the comments!
Promerus is a technology-driven organization committed to building better solutions for electronic materials. To help you unlock your competitive advantage in a transformative industry, we encourage you to download The Complete Guide to Semiconductor Materials to see what Promerus can do for you.