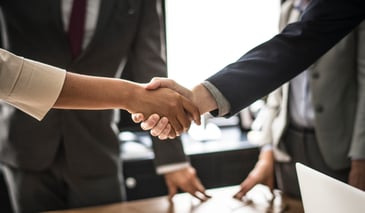 In the semiconductor industry, picking the right partner is crucial to success. If you choose the wrong partner, your solution could fail before it's had the chance to take off.
On the other hand, if you find a reliable partner who shares your industry experience and expertise, as well as values, there's no telling what you can achieve.
As you vet potential partners, we pose questions to consider, plus qualities to look for in team members below.
1.

Reliable
With any project that requires functional materials (semiconductors and polymers), the first rush of disruptive technologies is followed by years of development, refinement and experimentation.
According to McKinsey & Company, "Some 80 percent of development projects do not meet the initial schedule, often because teams overestimate their productivity and underestimate the complexity of their project."
That's why it's important to find a reliable partner that adheres to research and development timelines, as well as project end-goals. When you're evaluating whether or not to take on a new partner, focus on the road ahead and the results you hope to achieve, but set realistic timelines from the start.
Question to Pose: Does your partner generate consistent profits and performance?
2. Collaborative
In order to tailor the properties of functional materials, the partner you're working with must take the time to understand your application-specific requirements.
The ability to collaborate with partners is a huge benefit, as it gives you complete transparency into every step of the process. But, this personalized experience isn't possible with standard solutions.
Question to Pose: Does your partner have the capability to tailor the physical properties of functional materials, and do they take the time to understand your needs?
3. Innovative
To generate value amid the industry's competitive dynamics, business partners must align innovation with strategy.
If you want to own your competitive advantage, seek a partner that's committed to designing and testing innovative material solutions for the next generation of applications in electronic markets.
Question to Pose: What materials does your partner manufacture? Are they actively developing new materials?
4. Compliant
When it comes to researching, developing and manufacturing functional materials, it's imperative that your business partner meets all of the associated legal and regulatory requirements.
If at any point you have reservations about your current partners' ability to do just that, it may be time to consider a new one.
Question to Pose: Does your business fulfill ISO Certification criteria?
Hint—this refers to the various aspects of a quality management system, meaning your partner meets the statutory and regulatory requirements related to a product or service.
Ready to get started on your next project? Promerus is a technology-driven organization that manufactures a variety of electronic materials using polymers that provide outstanding electrical, mechanical and thermal properties. Contact us today to see what Promerus can do for you. In the meantime, download our free guide to explore our materials and applications.