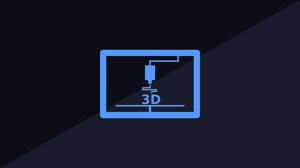 Advances in 3D printing are enabling technology for a wide range of applications.
Nowadays, many things around you are built with the help of a 3D printer. This is because designers, engineers and manufacturers can experiment with numerous design iterations at no extensive time or tooling expense.
But, not all 3D printers use the same materials. In fact, the material often dictates what 3D printing processes are available to use.
Below, we explore the various types of materials, including metals, photopolymers and thermoplastics.
1. Metals
A number of different metals are available in powdered form to suit exact processes and requirements for 3D objects.
Metals, such as aluminum, bronze, gold, nickel, stainless and titanium, can be used to create parts with excellent mechanical properties. And, in low- to mid-volume production runs, the parts themselves can be made faster and cheaper than traditional manufacturing processes.
This makes metal 3D printing a greater fit for parts that might be traditionally expensive or difficult to manufacture.
2. Photopolymers
A photopolymer is a formulation that changes its physical properties when exposed to light (visible or ultraviolet). In the case of 3D printing, photopolymerization is a technique that transforms light energy into chemical energy, causing the material to form three-dimensional polymer networks.
3D printing with photopolymers is a significant area of focus for designers, engineers and manufacturers, as it yields parts that have more isotropic properties compared to thermoplastics made by filament printing.
3. Thermoplastics (Filament and Powder)
Thermoplastics can be melted and resolidified several times while generally retaining their properties unlike thermosets. This makes thermoplastics a useful material for 3D printing because they can be used to form complex shapes.
With good mechanical strength and thermal resistance, engineers can make parts for aerospace, automotive and other specialty applications using thermoplastics to create a 3D object. These materials usually come in the form of filament or powder to build durable parts.
In the future, the range of materials that can be used for 3D printing will continue to expand and evolve, along with the processes and its applications.
Promerus is a technology-driven organization providing advanced material solutions for the next generation of applications in markets, such as semiconductor, optoelectronic and electronic packaging. These materials are based on high-purity polymers that provide outstanding electrical, mechanical, thermal and optical properties in many applications. To see what Promerus can do for you, we encourage you to download our Materials Guide.