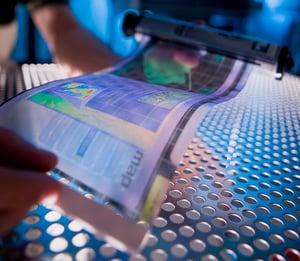 Flexible electronics have been in the works for decades. However, recent reports prove flexible electronics are becoming a reality in many commercial applications.
In fact, Markets and Markets projects the flexible electronics market to grow from $23.92 billion in 2018 to $40.37 billion by 2023. The convergence of these technologies including wearable devices and foldable displays has enabled consumers to stay connected in real time while going about their lives. But the benefits don't stop there.
Below, we identify the several of the advantages of flexible electronics that consumers love.
1. Portability
A major pull for flexible electronics is portability.
While most conventional electronics feature glass-based displays that are made of rigid and potentially breakable components, advances in organic thin film transistors allow consumer-end products to be substantially lighter and thinner. This change in design makes everyday tasks easier. From commuting to grocery shopping, consumers are able to rely on a single, robust device to access a wide array of functions and services—anytime, anywhere.
These advantages make flexible electronics an attractive alternative to current silicon technologies.
2. Personalization
Beyond portability, flexible electronics also provide consumers with highly personalized experiences. Think smart bands and other flexible wearables.
With flexible displays, sensors and systems, consumers have access to a wealth of device-generated data. This information empowers consumers to interact with their health and engage with a network of friends across platforms. Over time, this interconnectivity can increase productivity.
Additionally, flexible electronics can be tailored to the requirements of one target application. This flexibility comes from the materials that make up the device itself. This includes flexible polymer film substrates instead of rigid printed circuit boards.
3.

Product Paradigms
Lastly, flexible electronics are finding use in a diverse array of applications. From versatility to practicality, developments in flexible electronics are providing designers and consumers with innovative form factors and features.
Take for example the 2018 FIFA World Cup in Russia. Various flexible and printed electronic products were used to prevent tickets from being counterfeited with radio-frequency identification. What's more, fans experienced the first-ever soccer match ball featuring an embedded near-field communication (NFC) tag, which enables users to interact with it using their smartphones reshaping the fan experience.
Flexible electronics have the ability to span product lines. By replacing rigid and stiff components, manufacturers are able to design form factors that aren't possible with conventional materials. As a result, these technologies will become more integrated into everyday life, further advancing their popularity.
Promerus develops a variety of electronic materials for the next generation of applications in markets such as semiconductor, optoelectronic and electronic packaging. For more information, take a look at our materials and applications to see what Promerus can do for you.